Neighborhood: The Town of Telluride
The Town of Telluride is an authentic western gold and silver mining town and one of a few National Historic Landmark Districts in America. To the north, the closest traffic light is 40 miles away. To the east, the closest traffic light is over 200 miles away. To the south, it is over 75 road miles away, and to the west it is 130 miles away. The closest major cities are over a six-hour drive away, yet there are several nonstop commercial flights into the nearby Montrose airport from around the country. Nestled in a dramatic box canyon surrounded by 13,000- and 14,000-foot peaks, Telluride is consistently rated as one of the best small towns and top ski resorts in North America. Telluride is the epitome of a small-town setting, which eliminates the need for a car in any season, just six blocks wide by 15 blocks long connected by an innovative and free gondola transportation system to its sister town of Mountain Village. Telluride is the county seat for San Miguel County, one of the least populated counties in Colorado with a total county population of 8,191 (2018), while Telluride has a year-round population of 2,325 people (2019). At 8,750 feet, Telluride is surrounded by National Forest along with forever open space along the valley floor west of town, so there will never be a sprawl of cookie-cutter malls or buildings. The quaint nature, bolstered by a ski area descending into the town, is preserved forever.
Town of Telluride Property Stats
Let Us Help You Find Your Dream Home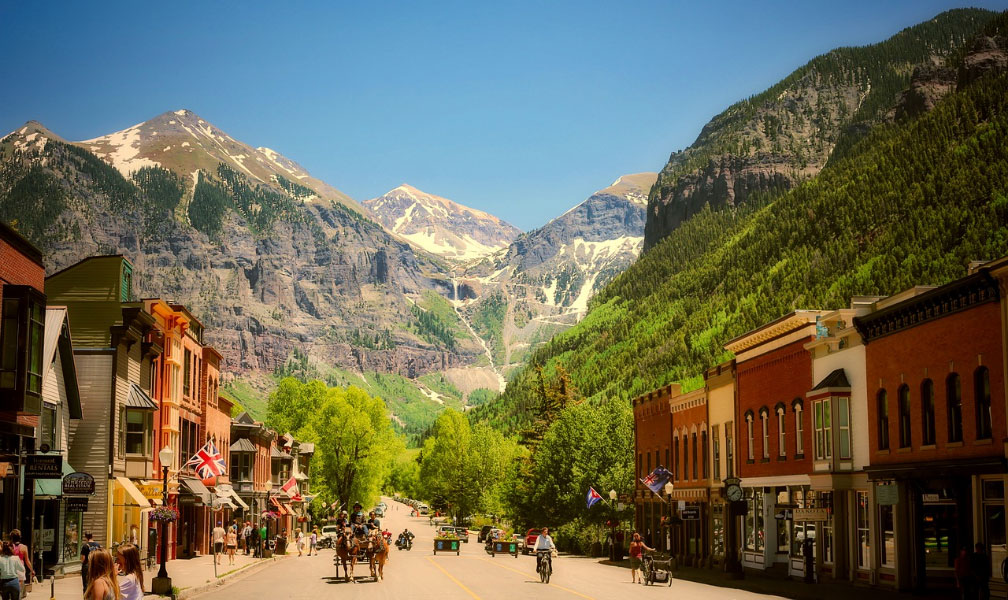 Telluride is blessed to be amidst a vast array of amazing natural activities such as skiing, hiking, biking, fishing and rafting on one of the West's last undammed river, climbing, ice skating, horseback riding, four-wheeling, camping and more. The area is also within a day's drive to several National Parks and Monuments including Black Canyon, Mesa Verde, Arches, Canyonlands, Canyon De Chelly, Grand Canyon, Bryce, Zion, Hovenweep and Dinosaur. Telluride is located on the San Juan Scenic Skyway, often recognized as one of the top 10 scenic drives in the entire country. This 236-mile loop joins the towns of Telluride, Durango, Ouray, Silverton, Dolores and Ridgway.
Telluride's festivals are second to none and have been around longer than most others in the Rocky Mountains. They include three film festivals (different genres), several music festivals (Bluegrass, Jazz, Rock, Blues) and several other top-notch festivals that keep the calendar of events overflowing with options throughout the year. Plus, the views at Town Park are unbeatable!
Colorado is a state surrounded by beautiful backdrops, yet Telluride is perched in the top echelon of incredible scenery. Set in a rare one-way in and one-way out box canyon, Telluride is surrounded by the largest concentration of 13,000- and 14,000-foot mountains in North America and framed by several waterfalls including Colorado's longest free-falling waterfall at 365 feet. If the Telluride valley was discovered today in its natural state, it would undeniably be designated a National Park.
I tell people all of the time that you won't find Telluride listed in Chris Santella's book "fifty places to fly fish before you die." Why is this something to boast about, you ask? Fly Fishing Telluride is unlike fishing anywhere else in Colorado. You will not find "combat fishing" scenarios like on the Frying Pan River near Aspen or the proverbial "rubber hatch" of boats floating down the Roaring Fork; instead, you will experience quite the opposite. If you are looking for solitude along some of Colorado's most pristine rivers, then look no further than the San Miguel and Dolores rivers. Here you will find unmatched beauty, tranquil, cool, trout filled waters and a chance to unplug from the constant connections of life, if even just for a few hours. If you are checking fishing destinations off of your bucket list and the 'fifty places to fly fish before you die" is a personal goal, then fishing the Gunnison River (a day trip from Telluride) is a must. The Gunnison River is the only Colorado fly fishing destination listed in Santella's fabled book and fishing this magical place holds the opportunity to fish for Colorado's only true rainbow trout. If you would like to get away for a couple of days and truly get lost in the fairytale of the Black Canyon of the Gunnison (named for the lack of light pollution and its unique star gazing potential) then a multi-day float fishing trip through the Gunnison Gorge is for you.
Let Us Help You Find Your Dream Home
The Telluride community has a remarkably positive intimacy since the population is so limited; people quickly pitch in to lend each other a helping hand. For over 130 years, San Miguel County has a colorful history with a high concentration of people with notable and news-making skills. Award winning restaurants, longstanding community events, small town friendliness, innovative institutions including the library and schools underscore the depth of quality. In fact, the Telluride School District has consistently been rated a top school district in Colorado for several years and personnel from the school system have earned top state honors for best Teacher, Librarian, Athletic Director and Superintendent of the Year.
The Telluride Ski Resort is a world-class resort that some consider to be the best skiing area in the entire country. This gargantuan ski resort has slopes that can accommodate any level of skier from beginner to advanced. In fact, this resort boasts over 147 different trails, each with its own unique experience.
With over 300 inches of powder annually and over 2,000 acres of skiable terrain, the Telluride Ski Resort is a must-see.
Click here for more information about the resort. 
As we discussed earlier, Telluride is an all-season travel destination. If you don't like snow or skiing, then you should consider checking out the beautiful hiking destinations that Telluride has to offer.
When you choose a hike to tackle, be sure to find a trail that overlooks some of Telluride's exquisite natural wonders. In the summer, the views of Bear Creek and Bridal Veil Falls are to die for.
Do you prefer a serene evening listening to the wind blow? Do you have a family and you want to allow your children to roam free and make memories?
Town Park in Telluride Colorado is all of that and more. This park is over 36 acres and has amenities that will have your kids begging to come again. With multiple playgrounds, beautiful scenic walking trails, and an outdoor pool there's something for everybody at this natural destination.
Telluride Historical Museum
Before the Telluride Ski Resort, Telluride was known as a gold-mining town. It was actually the intense snowstorms that plagued the miners with issues as they tried to find gold. This, of course, ended up being a blessing in disguise, as the high degree of snowfall is what allows Telluride Ski Resort to be one of the best ski resorts in the country.
At the Telluride Historical Museum, you can learn and study the fascinating transition from a small mining town to a dream winter getaway spot. Did you know that Telluride has not one, but five historic mines? Did you know that Butch Cassidy's first bank robbery was actually at the San Miguel Valley Bank in Telluride?
If you have an appetite for intriguing history the Telluride Historical Museum will undoubtedly satisfy that hunger.
Let Us Help You Find Your Dream Home
The only thing more exciting than the view of Trout Lake is actually traversing the lake on your very own paddleboard. There are several companies that can supply you with rented paddleboards, guided tours, and any other aquatic accessory you can think of.
Paddleboarding along Trout Lake is our personal recommendation, but visiting the lake to have a quaint picnic or a refreshing swim can also be a great way to spend an evening. If you find yourself being calmed by the sounds of running water, don't think twice about visiting!
Did you know that Telluride was once considered a haven for hippies? Although that label hasn't stuck around, there is still a great appreciation for the free spirit and art in Telluride. One manifestation of that artistic spirit is the Telluride Film Festival.
This film festival is held every Labor Day Weekend and is a hot spot for film buffs and celebrities each year. One unique aspect of this film festival is that all of the films that are featured are kept a secret until the day you arrive. In a world full of excess information, small surprises like these can be a refreshing experience for those who like spontaneity.
Are you a connoisseur of motion pictures? If so, the Telluride Film Festival could be exactly what you're looking for.
Mike Shimkonis & Asa Van Gelder